Introducing Monk X, the AI DevOps Agent
Learn more about how our AI DevOps agent, Monk X, can help you improve your workflow!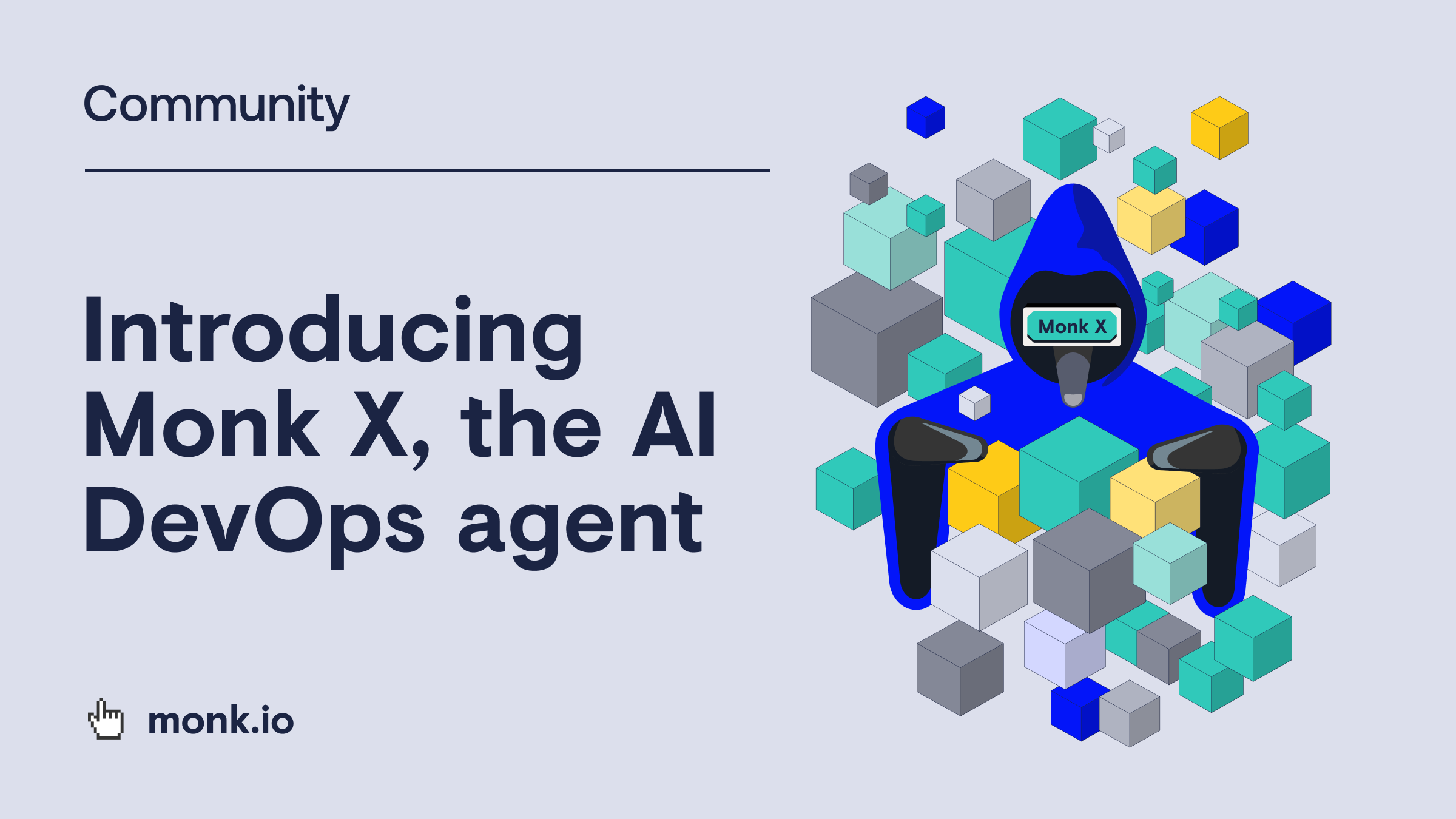 Monk is AI DevOps for the cloud.  

Monk X is part of the Monk toolset and you can find her in the Monk GUI (our magic whiteboard with a button that can be pressed to deploy diagrams to the cloud). Monk X is an autonomous agent that amplifies your team.
Monk X knows your code
Monk X actually reads your source code to understand what your application needs and then builds or updates the optimal infrastructure for your codebase, in any cloud. What's more, you'll find that no config files, IaC or even Dockerfiles are necessary to start. Yes, you read that right.
Monk X knows DevOps
Monk X talks with you, in natural language, about your deployment. She is system aware and can answer your questions, give you advice, and tell you what's going on. She's already trained and always getting smarter. Monk X keeps you on top of the best practices and latest updates that are meaningful to your architecture. Monk X can dive deep into protocol nuance and keep the high level design in mind.
The main ingredient is you knowing what your goal is - Monk X works backward from that to make it reality.
Monk X knows your cloud
Because Monk X is fully aware of your entire system, she can suggest intelligent changes and improvements to your cloud configuration. Monk X is constantly learning about your system and about DevOps.
Here are some of the things you can converse with Monk X about:
Receiving informed feedback on design questions
Learning about in-flight deployment task, in real time
Ballpark estimates on costing
Learning about the health of your deployment
Monk X as agent
More than suggesting changes, Monk X can implement them in the architecture, under your review, then deploy them. She is a collaborator for your team. We think of Monk X as a participating agent, more than a chatbot or copilot. With the entire toolset, Monk watches your app's infrastructure and runtime behavior. Your services keep running, your app autoscales in response to traffic, and your system stays secure.
Monk X as ally
Monk X is your trusted advisor. Decrease fact-finding time for you and your team so you can stay focused for longer. Instead of interrupting your flow to research and find someone to answer your questions, you can ask Monk X for help.

Reduce the stress of resolving incidents. Instead of starting by diving through your traditional observability tools, ask Monk X about the failure and start immediately with her knowledge.
Where to go from here
We invite you to try Monk X and see how her knowledge can help you and your team work better, together. We'd love to hear about what you were able to build and solve with Monk, so please reach out!

If you want to get started today, then you can:
Join our Open Beta

When you sign up for an account it will allow you to use both the whiteboard and command line tools.

Join our Discord

This will provide support from the Monk staff as well as the broader Monk Community

Want an invite to the Monk X agent? The first 1,000 Monk.io signups come with a Monk X invite.
For entire teams: Sign up for a Monk Lunch & Learn!